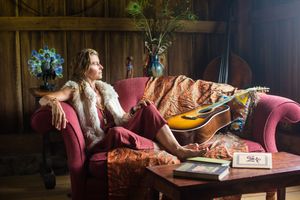 INDIESTRONG.com
KRISTI FLAGG - BRAVE NEW VIEW 
November 24, 2020|Music Review
It is always exciting when you put on an album and are immediately excited by the songs that are coming through the speakers. Kristi Flagg's 2020 release, "Brave New View" is one of those albums. Songwriting, production, musicianship, great vocal… It ticks all the boxes. 
Kristi Flagg's journey with music is the tale of a phoenix rising. She stepped away from music in the late 90's despite believing it was what she was meant to do. This decision came after a series of affiliations which were less than supportive and which made her question whether she had what it took to be a full time musician. I am one to say that she definitely has what it takes. 
The lead track, "This Love" announces the arrival of a natural artist long over due to share her stories with the world. Her classic sounding voice, dynamic instrumentation, and canorous delivery result in a flawless end product. 
Track 10, "In My Arms" a song about love and longing is highlighted by moody acoustic guitar and lyrics delivered with masterful timbre.  Genuine performance and well written. 
The 11 songs are eminence in a sea of songs flooding the industry. If you like the songwriting of Harry Chapin, Shawn Colvin, Joni Mitchell and the honest storytelling of Dar Williams, this is a fit for you. Of the many releases I have seen this year, "Brave New View" easily lands in my top five. An enchanting collection of songs born from life experiences. 
The album was co-produced by Tracy Walton in CT at On Deck Sound Studio. Notable contributions come from Rich Hinman (K.D. Lang, Rosanne Cash) Grammy nominated Jai Uttal, Steve Peck on drums, and Glen Nelson on keys. Walton plays a bunch of instruments on the record and holds things down with rock solid bass playing. 
This long overdue release is first class and I look forward to watching the intrepid adventures of Kristi Flagg 
I had never heard of Kristi Flagg, now I can't picture myself not hearing her on my playlists everyday  - Dylan Walker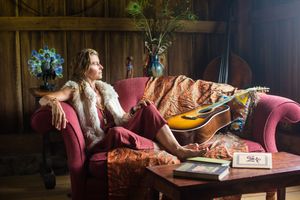 Skope.com
Kristi Flagg is Back with a 'Brave New View' 
by Skope • December 24, 2020 
Kristi Flagg has been out of the music game since the late 90s, but she is back now and better than ever with her latest release, 'Brave New View'. After many years away from the music scene, Kristi got an itch to write and create songs again proving you can't keep a good singer/songwriter down! 'Brave New View' is Kristi's rebirth, in a sense, as the shining artist sheds a newfound light on her musical journey. 'Brave New View' is the next chapter for Kristi Flagg and what an exciting one it is! 
All 11 tracks on the new album are highly personal to Kristi inviting listeners to take part in her songs of sincerity. Kristi Flagg touched on the record perfectly here by saying: "Brave New View has a prayerful theme running through its veins: in liberating my own being, may I benefit others." You will immediately sense that Kristi poured her blood, sweat & tears into this project and the end result is simply satisfying to the audience. 
The album kicks off with "All I Got Mix" that provides an easy-going style, pleasing vocals and catchy melody. The title track is up next and what you get is soulfully-drenched vocals by Kristi bearing her soul to everyone. Track three, "Heart Skip A Beat", provides a pleasant voice that instantly invites you in to go along with a happy-snappy beat & groove. A comforting spirit & presence is present on "If You Return To Me" and then you will find yourself fully embracing the emotional, soft touch on "In My Arms". Get ready to "Just Hold Me" where you receive one captivating performance that offers an overload of feeling courtesy of Kristi Flagg. Next, brace yourself for a smooth 'n' sweet approach on "Let it All Come Tumbling" and then get hit with a convincing 'n' pronounced performance on "Lost In The Thought Of You" that is also thought-provoking. Track nine, "Our Story", is a free-spirited, uplifting tune while the following track, "Shelter Me", supplies a very strong delivery from Kristi that grabs a hold of you from beginning to end. The album ends on a bright note with "This Love" that is absolutely fulfilling and so loving in nature. You can also SKOPE out the official music video for "This Love" right here: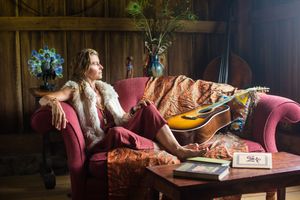 divideandconquermusic.com
KRISTI FLAGG - BRAVE NEW VIEW 
1/8/2021 
Kristi Flagg 
Brave New View 
​self-released; 2020 
By My Nguyen​ 
Kristi Flagg is a Connecticut singer/songwriter, who in her mid 20's took a break from her life as a touring musician, opening for the likes of Odetta, John Gorka and the Indigo Girls. The break went on to last the better part of 25 years. Then in the summer of 2018, she found herself at an open mic. By the end of the night, she was singing again. It was not long before, Flagg began heeding the call to write songs again. Inspiration began flowing from her fingertips and 40 songs were written in that period including the 11 which make up the tracks on Brave New View, her first album in over two decades. 
Brave New View packs many hard lessons she has learned in life including "the passing of her mother, the dissolution of a 20-year marriage, her discovery and exploration of meditation, new love and the essence of the sacred in everything and everyone." Flagg's return to music has proved fruitful. Her songs, leaning onto Americana, folk and acoustic flavorings, are innately good. Listeners upon hearing her voice for the first time will feel an unbelievable warmth permeate them as Flagg's soulful performances really bring across her heartfelt and compelling delivery. 
Brave New View moves forward with "This Love (ft. Jai Uttal)" where a drumming beat offers up a sauntering groove. Once Flagg's vocals enter, listeners will be arrested by her rich and flavorful vocal harmonies. The background vocals also give off a lush and poppy feel. The song had a catchy beat to it. Together with Flagg's warm vocals, this made for a captivating delivery. Sounds of a sitar towards the outro provides an Eastern flair accompanied by Uttal's Hindi lyrics. Off to some jaunty rhythms, the guitars are melodic and shimmering on "Our Story." Flagg's vocals waste no time in settling in. The track had a contemporary and soft rock feel to it. "If You Return to Me" dives right in with a folksier and Americana feel. The song felt warm and honey-spun. The longing and affection felt in the lyrics will really take listeners there. 
More of Flagg's signature ballad-style vocals get realized on "Just Hold Me." This felt like another slow burning track that is very pleasing to the ears. I was delighted by the ease and flow of the vocals and harmonies. Flagg changes things up once more with a fully charged vibe on "All I Got." About a relationship that doesn't work out, Flagg really ups her showmanship on this song. A pensive acoustic guitar melody makes its way on "Lost In The Thought Of You." The meandering tune felt very introspective. The harmonies will place listeners in a contemplative mood. 
The upbeat-ness of "Heart Skip A Beat" will really resonate with pop-geared audiences. Sparse guitars and drumming beats alone support Flagg's vocals at first. This seemed to work great in this instance. Next, a more '50s and '60s rock sound is harnessed. Some doo wop-inspired vocal harmony layers get realized. On "Brave New View," some dynamic strumming on the acoustic guitar actualizes this song. What sounds like an organ adds some unique flavoring. Flagg's sultry Americana and country-bent roots could be heard throughout this track. Off to a sauntering groove, the layers of guitar and what might be organ felt very moving on "Shelter Me." A bit of hope comes from Flagg's vibrant and bright vocals. This felt like a great way to end the album. 
These tracks felt very much in the singer/songwriter vein. It was no wonder that Flagg was inspired to return to the business again after an open mic event. Flagg says in her bio that the album was very 'liberating' to make and hopes that it has the same effect on listeners. I think what Flagg means is that these tracks really freed and helped create a cathartic release for her. 
​Flagg has made an impactful record that will be sure to speak to a wide audience. This was a solid release and I look forward to seeing what's next for the artist.